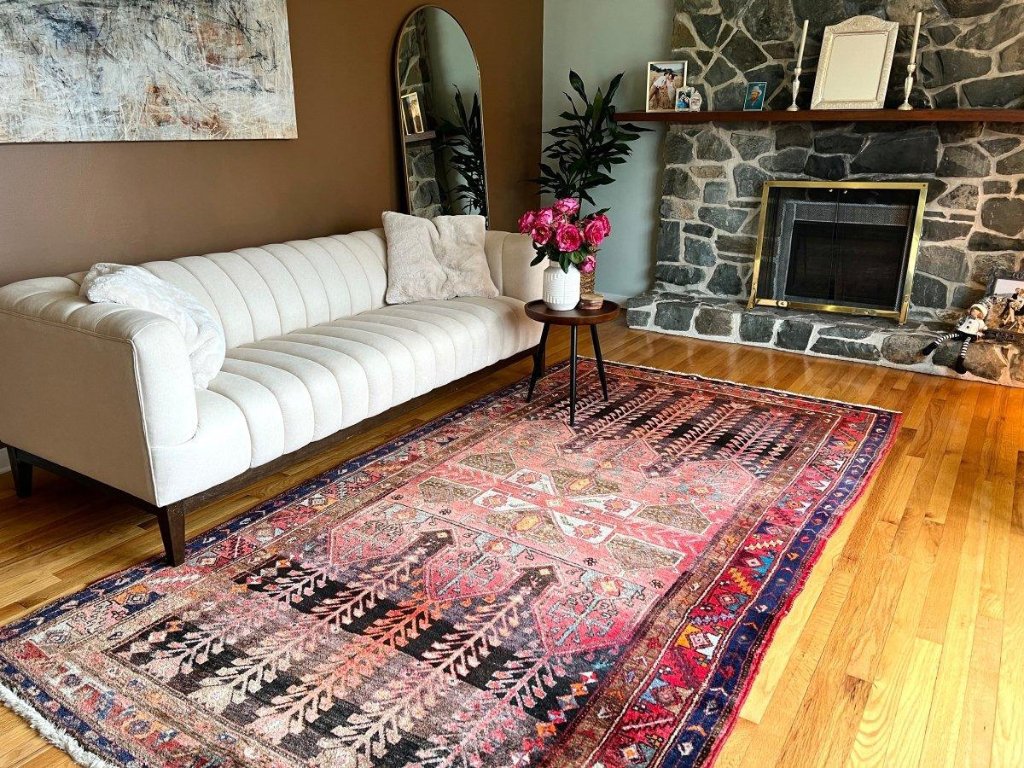 Abrash in Hand-Knotted Rugs: The Beauty of Imperfections
Have you ever noticed that some handmade rugs have subtle variations in color or tone? These variations are called Abrash, and they are not flaws or defects. On the contrary, they are signs of authenticity, uniqueness, and beauty in hand-knotted rugs.
Antique 18th century Chinese rug with Abrash 
What is Abrash?
Abrash is a Persian word that means "mottled" or "mottled horse". It refers to the changes or differences in color that occur in hand-knotted rugs. Abrash can appear as horizontal bands, spots, stripes, or patches of color that are lighter or darker than the surrounding area.
Abrash means "mottled horse" in Persian 
What Causes Abrash?
Abrash is caused by several factors that are inherent to the handmade rug-making process. Some of the most common causes are: 
Natural dyes:
Many hand-knotted rugs are made with natural dyes derived from plants, minerals, insects, or animals. Natural dyes are sensitive to environmental factors such as sunlight, moisture, temperature, and pH. They can also vary in intensity and hue depending on the source and quality of the raw materials, the dyeing method, and the duration of the dyeing process. Therefore, natural dyes can produce inconsistent or uneven colors that result in abrash.
Wool quality:
The quality of wool used to make hand-knotted rugs can also affect the color and appearance of abrash. Wool quality depends on the breed, age, health, and diet of the sheep, as well as the season and location of shearing. Wool quality also depends on the spinning, washing, and carding techniques used to prepare the wool for weaving. Different qualities of wool can absorb and reflect dyes differently, creating variations in color and texture that contribute to abrash.
Different lots of yarn:
Another cause of abrash is the use of different lots of yarn to weave a rug. A lot is a batch of yarn that is dyed at the same time with the same dye. However, even if the same dye is used, different lots of yarn can have slight differences in color due to natural variations in dyeing conditions and materials. Therefore, when a weaver runs out of yarn from one lot and switches to another lot, abrash can occur.
Change of weaver:
Sometimes, a hand-knotted rug is not woven by one person alone, but by several weavers who work on different sections or at different times. Each weaver may have a different style, technique, or tension when weaving the rug. These differences can affect the density, thickness, and angle of the knots, which can create variations in color and texture that manifest as abrash.
Aging and exposure:
Abrash can also develop over time as a result of aging and exposure to light, air, dust, and moisture. As a rug ages, its colors may fade or change due to oxidation and chemical reactions. Exposure to sunlight can also cause some colors to fade faster than others, creating uneven tones. Additionally, dust and moisture can accumulate on the surface or within the fibers of a rug, altering its color and appearance.
Why is Abrash Beautiful?
Abrash is not a defect or a flaw in hand-knotted rugs. Rather, it is a feature that adds character, charm, and beauty to them. Abrash is a testament to the human touch and craftsmanship that goes into making each rug. It reflects the history, culture, and artistry of the rug-makers and their traditions. It also enhances the aesthetic appeal and visual interest of the rug by creating contrast, depth, and movement.
How to Choose and Care for Rugs with Abrash
If you appreciate the beauty and uniqueness of abrash, you may want to choose a rug that showcases this feature. Here are some tips on how to choose and care for rugs with abrash:
Choose a rug that suits your taste and style. There are many types and styles of hand-knotted rugs that feature abrash, such as Persian, Turkish, Afghan, or Moroccan rugs. Each type and style has its own distinctive patterns, colors, and motifs that incorporate abrash in different ways. You can choose a rug that matches your personality, preference, and decor.
Choose a rug that fits your space and function. You also want to consider the size, shape, and function of your space when choosing a rug with abrash. You want to choose a rug that complements your furniture arrangement and creates a cozy and inviting atmosphere. You also want to choose a rug that is durable and easy to maintain for your intended use.
Choose a rug that has a balanced abrash effect.
While abrash is a desirable feature in hand-knotted rugs, you don't want it to be too overwhelming or distracting. You want to choose a rug that has a balanced abrash effect that enhances the overall design and color scheme of the rug. You also want to avoid rugs that have abrash that is too obvious or unnatural, such as sharp or abrupt changes in color that may indicate poor quality or damage.
Care for your rug properly. To preserve the beauty and value of your rug with abrash, you need to care for it properly. You need to vacuum your rug regularly to remove dust and dirt that can dull its colors and damage its fibers. You also need to rotate your rug periodically to prevent uneven wear and fading. You also need to avoid exposing your rug to direct sunlight, moisture, or heat that can cause fading, mold, or shrinkage. You also need to clean your rug professionally every few years or when it gets stained or soiled.
Abrash is a beautiful and unique feature of hand-knotted rugs that reveals the human touch and craftsmanship behind them. It adds character, charm, and beauty to each rug and makes it a one-of-a-kind piece of art. By choosing and caring for rugs with abrash, you can enjoy their beauty and value for years to come.


Watch this educational and informative video from Rug Chick.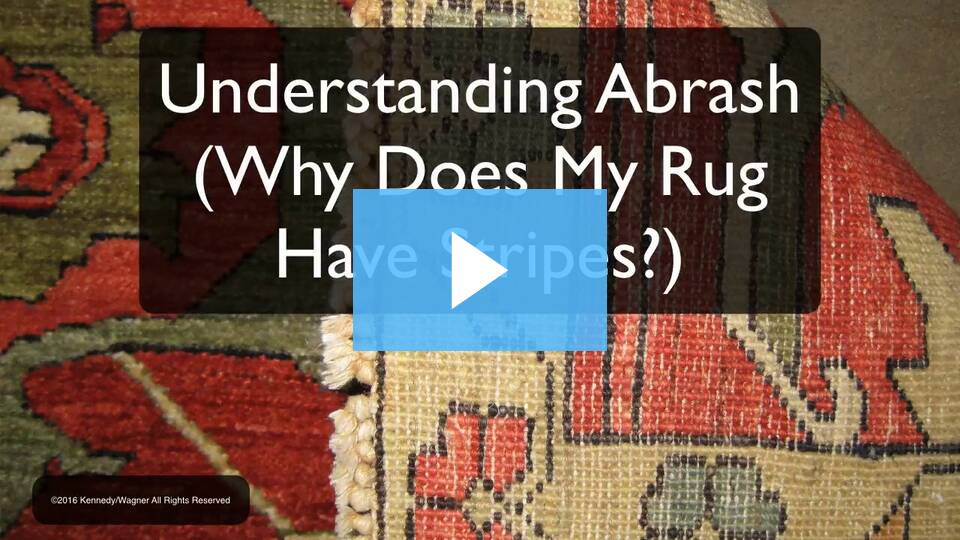 Discover more on our magazine!