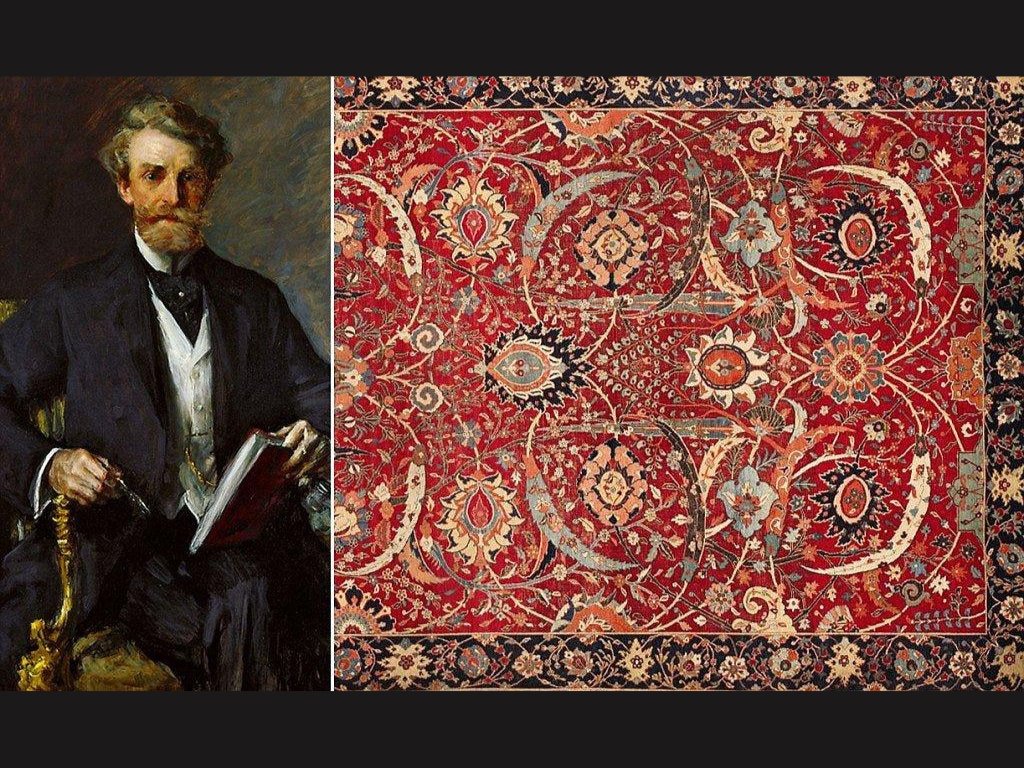 The Top 10 Most Expensive Rugs Ever Sold in History!
Are you fascinated by the world of rugs? Do you want to know which rugs are the most valuable and why? If so, you are in the right place. In this article, we will reveal the top 10 most expensive rugs ever sold at auctions. You will discover the amazing stories behind these rugs, and how they reflect the culture, history, and artistry of their creators.
In this article, we are discussing rugs that had a seller and a buyer. We skipped historical carpets kept in museums, they may have higher values than the ones sold at auctions.
10 - 'Polonaise' silk and metal-thread rug, Iran, 17th century, $790,000 :
This superb Isphahan or Kashan rug from central Persia was sold at a private auction organized by Sotheby's in 2015 for $790,000. The rug features an intricate floral design made using silk and metal threads, making it both beautiful and valuable.

9 - Navajo Blanket, 19th century, $1.5 million
:
This traditional symbol of Native American life was sold by Loren Krytzer at an auction house in California in 2017 for $1.5 million. The blanket features a geometric design that is typical of Navajo weaving and is made from wool, making it both beautiful and valuable.


8 - Edmond J. Safra's Safavid Carpet, Iran, 16th century, $2 million:
This late 16th-century Safavid rug from East Persia was sold at a Sotheby's auction in November 2005 for $2.032 million. The rug features an intricate floral design and is made from silk, making it both beautiful and valuable.
7 - Rothschild Tabriz medallion carpet, Iran, 16th century, $2.4 million
The Rothschild Tabriz Medallion Carpet from the 16th Century was stolen from the Rothschild family in Austria by the Nazis during World War II. The exquisite Persian rug measures over 20 feet long and sold for $2.4 million. Qatar's Sheikh al-Thani was the buyer. The carpet is made in northwest Persia. It was initially valued at $400,000 before the sale. The Rothschild Tabriz Medallion Carpet is now housed in Qatar's Museum of Islamic Art.
6 - Louis XV Savonnerie carpet, France, 18th century, $4.4 million
Taking a few steps away from the East for a moment, we find this 18th-century French masterpiece. This stunning carpet, designed by Pierre-Josse Perrot and woven between 1740 and 1750, is embellished with incredible detail. It is an awe-inspiring piece with a complex, almost three-dimensional design. The design vividly illustrates France's 18th-century royal arms, military trophies, flowers, and ornaments.
The Savonnerie factory was established in the early 1600s in Paris to produce French versions of carpets from the East using Turkish techniques. 
5 - Silk Isfahan rug, Iran, 17th century, $4.45 million
A stunning silk Isfahan rug was sold at Christie's in June 2008 to a Long Island resident who preferred to remain anonymous. Perhaps because they paid $4.5 million for this Persian rug, which once belonged to Doris Duke, a New York-born philanthropist, Duke purchased the carpet in 1990. When she died in 1993, she left the 7'7 "x5'7" carpet to the Newport Restoration Foundation. The silk Isfahan rug from the 17th Century comes in 14 different colors.
4 - Mughal Millefleurs "Star-Lattice" carpet, India, late 17th or first half 18th century, £4.7 million
Unsurprisingly, a carpet from the Far East is among the most expensive rugs in the world. At a Christie's auction in 2013, this 18th-century North Indian rug sold for more than £4.7 million, far exceeding its estimated price.
Its first owner was the renowned socialite and businessman Cornelius Vanderbilt II. Like almost every item in this article, it has had several owners. However, the final buyer, who faced off against another bidder in a nail-biting finish, has chosen to remain anonymous.
The Pashmina-wool carpet has an intense scarlet field with a golden star latticework design enclosing symmetrical arrays of pink, yellow, white, and blue jasmine and lotus blossoms. It has only minor signs of wear and tear, which had no impact on the final selling price. Scholars and experts have dubbed it "the most sublime of all decorative carpets." It is one of only 12 Millefleur (French for "a thousand flowers") rugs from the period.
3 - The Pearl carpet of Baroda, India, 19th century, $5.45 million
This rug is also among the top most expensive in the world, featuring an intricate design made up of pearls, diamonds, rubies, emeralds, and sapphires. The carpet was commissioned by the Maharaja of Baroda in the 19th century and is considered a masterpiece of Indian art.
The Pearl Carpet of Baroda, commissioned in 1865 for the tomb of Prophet Muhammad in Medina, Saudi Arabia, never arrived at its intended destination. Still, it indeed found its way into modern history.
Not only is the base of silk and fine deer hide remarkable, but so is the astounding detail that makes this fantastic tapestry sparkle like a piece of jewelry. At least one million Basra pearls are weaved with English-colored glass beads and other precious stones such as rubies, emeralds, sapphires, and even diamonds in gold-topped silver in the rug.
The Pearl Carpet of Baroda was the highlight of Sotheby's 2009 auction, selling for $5.5 million to an anonymous buyer in Doha. The carpet is now part of the National Museum of Qatar's permanent collection, finally resting after a 150-year history of owners and inheritance.
2- Kerman "Vase" carpet, Iran, 17th century, €7.5 million
 
This Persian rug is an intriguing story. The carpet was estimated at $900 in 2009, four years before the most valuable carpet sale. Someone bought it for €20,000 at the auction. However, the seller was dissatisfied and went to Christie's auction house, which estimated between £200,000 and £300,000.
The following auction drew an incredible number of bidders and began at £150,000. It eventually sold for €7.5 million to a Middle-Eastern buyer, making it the most expensive rug in the world at the time.
An intriguing dispute between owners, auction houses, and donors resulted in this one-of-a-kind piece of Persian tradition and artistry making even more history. It proves once again that some objects are difficult to value.
1 - The Most Expensive Rug:
Clark Sickle-Leaf carpet, Iran, 17th century, $33.8 million
This 17th-century antique Persian carpet was sold for a record-breaking $33.7 million. The carpet is named after its former owner, William A. Clark, an industrialist and senator from Montana. The carpet features a red ground with a sickle-leaf design and is considered one of the finest examples of its kind.
The auction at Sotheby's New York stunned everyone as it shattered all records and became the most expensive rug ever sold. The unknown buyer from the Middle East, unwilling to let it go at almost any price, acquired the rarest masterpiece in handmade rugs for a museum there. Expectations of the rug fetching around $10 million were surpassed, leaving everyone amazed.
Watch this video describing the most expensive rug of all time, Clark Sickle-Leaf Carpet:
See Rug the Rock's authentic handmade rugs here.
Discover more on our magazine!