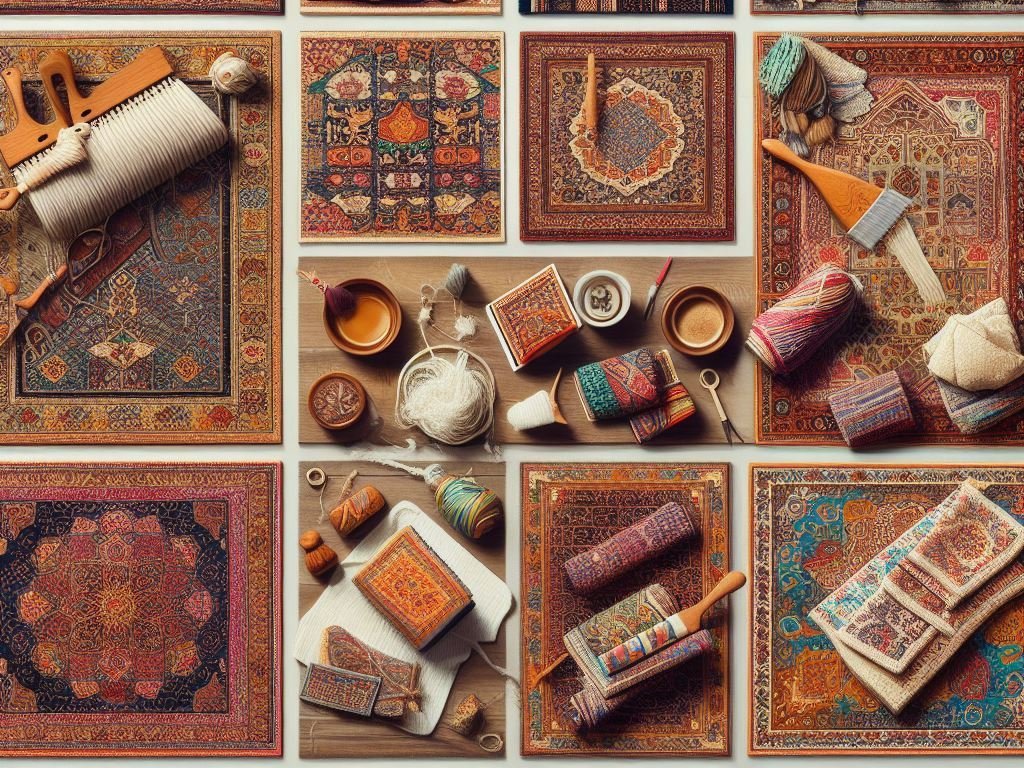 How to Take Care of Your Hand-Woven Rugs
Area rugs are not only beautiful and cozy additions to any home, but also valuable investments that need proper care and maintenance. Especially if you have hand-woven or antique Iranian rugs, you want to make sure they last for a long time and preserve their original quality and charm. In this article, we will share some tips on how to take care of your hand-woven Iranian rugs, from regular cleaning to repairing damages.
Tips for keeping rugs at home
Regularly vacuum the rug and pay attention to it
Use traditional vacuums for the initial cleaning of the rug. Vacuum in one direction from beginning to end, otherwise you may damage it. After you have vacuumed the entire rug, repeat this cycle and do it for the second time.
Electric vacuum cleaners use static electricity to collect dirt and are the safest way to quickly clean antique hand-woven rugs. Just use its brush, not the rotating brush. Vacuum thick, woolen rugs and those in traffic areas at least once a week to keep them fresh and new. Do not regularly vacuum antique or silk rugs, as it can damage them and reduce their value When vacuuming the rug, be careful not to move it back and forth, it is better to lift the vacuum and move it in the direction of the rug nap and then clean the other part of it in the same way. Vacuum the rug from both sides.
Rotate the rug
Keeping the rug under sunlight causes the colors to fade over time. If you can, keep the rugs away from the windows. If the rug is exposed to direct sunlight, rotate it 180 degrees at least once a month. This is done to prevent color change in the same area when exposed to direct sunlight and causes the colors to fade evenly. Another reason for rotating the rug is to prevent it from wearing out in the same spot.
Clean stains quickly
It may happen that something accidentally spills or falls on the rug. What you need to do is immediately deal with the stain or spillage. If no action is taken, the stain will penetrate into the rug, dry and make it harder to clean. Below are some tips that you need to remember and use in these situations.
Deal with stains immediately (remove the stain source)
Carefully remove liquids with a spoon
Clean with cold water if necessary.
Do not rub liquids and other spilled materials with a paper towel or cotton cloth.
Go from edge to center of stains
Only use a very small amount of detergent and cold water if necessary
Gently brush the stain with a clothes brush if needed.
Repeat this step twice if necessary.
You may need to dry the wet area with a "fan" or hair dryer at low speed.
Finish by restoring nap direction (rotate rug)
Wash the rug
To restore color and shine of the rug, use diluted white vinegar. Dilute vinegar 1 to 3 with water and gently rub it with a sponge in the direction of the rug nap. Do not soak the rug, just moisten it. Let it air dry and avoid exposure to sunlight that can bleach colors. Washing rugs properly restores vitality, shine and transparency of colors and fibers. Keep in mind that:
Use suitable detergents for rugs
It is better to test detergents on an inconspicuous part of the rug first
If the rug does not have a fixed color, the best option is to take it to a laundry
Do not forget to dry the back of the rug
For more security, entrust your rugs to a laundry.
Do not use steam cleaner
While steam cleaning is a way of cleaning rugs, we do not recommend steam cleaning hand-woven rugs. Because it can cause significant damage to antique rugs.
Steam cleaning causes a large amount of water to deposit in the rug. This water stays between the fibers and has no way out. Leaving wet rugs on the floor not only makes them prone to rotting and moldy, but can also damage your flooring. And finally, wet smell hardly leaves your home.
Repair rug damages
If necessary, refer rug damages to a repairer. Repairing hand-woven rugs is often very expensive. Try to take more care of them.
Use a rug pad (rug gripper)
It doesn't matter if your rug is thin or thick, in any case this is an efficient and comfortable way to minimize wear and tear of the rug and not only increases the life of your rug, but also provides more security and comfort because the rug stays firmly in place. Some of the foam rug pads are also sound and moisture insulators.
Move furniture occasionally
Heavy furniture that is placed on the rug can destroy the fibers and damage your rug over time. To prevent this, move your furniture every six months and if not possible rotate the rug. This makes your rug wear evenly and increases its lifespan.
Take the rug out and shake it
If you can, take the rug out and shake it to remove dirt and other particles.
We hope you enjoyed this article and learned some useful tips on how to take care of your hand-woven Iranian rugs. If you have any questions or comments, please feel free to share them below. We would love to hear from you. And if you want to learn more about rugs or other home decor topics, don't forget to subscribe to our newsletter and follow us on social media. You can also check out our other blog posts for more inspiration and information. Thank you for reading!
Discover more on our magazine!