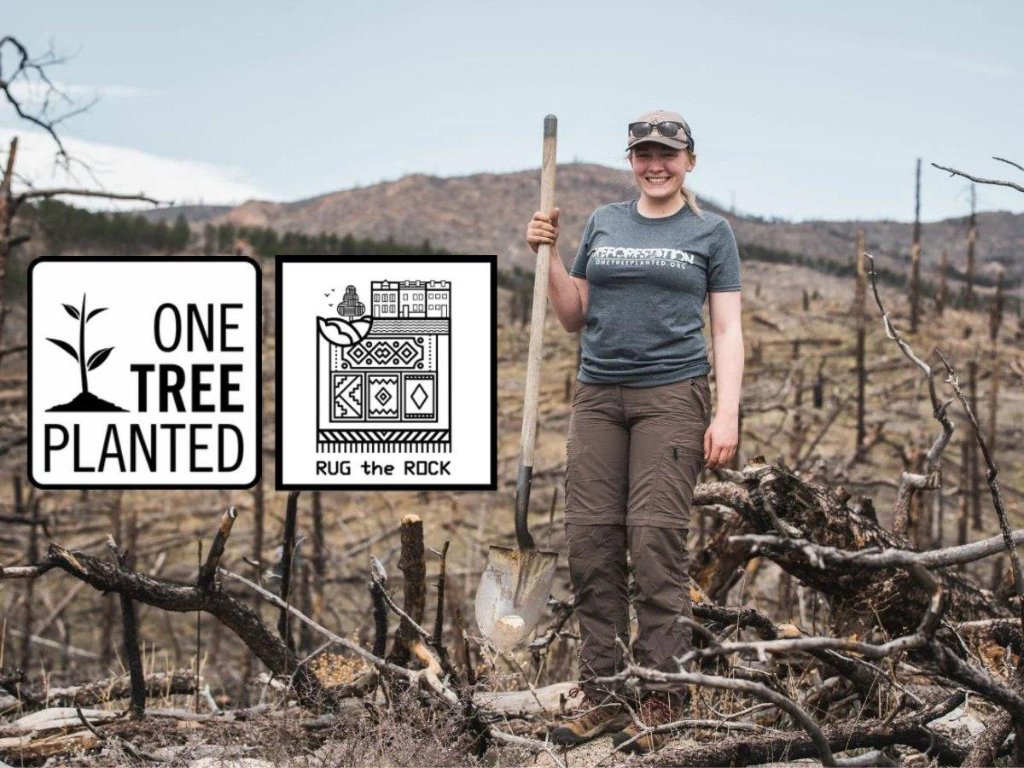 Impact Report 2022 | Rug the Rock
2022 was a year of ups and downs. But since April with your support we managed to donate money to plant 92 trees in 17 projects around the world.
Rug the Rock cares about Sustainability
Purchasing vintage products is one method to reduce your carbon impact, keep things out of landfills, and participate in the circular economy. Rug the Rock  sources all of its items with an emphasis on artistry and quality, and we strive for low-impact packaging and methods whenever feasible.

Many modern machine-produced rugs are comprised of plastic and emit harmful chemicals into our homes. These carpets are usually difficult to clean and repair, and they commonly wind up in landfills, where they decompose over thousands of years. Our vintage and antique handmade carpets are created with wool, cotton, silk, and natural dyes and are incredibly durable, repairable, and literally meant to last a lifetime. When these entirely organic rugs reach the end of their lives, they will degrade in a relatively short time.
Locations and Projects your trees are planted in:
Below is the list of locations and impacts your trees make for planet earth. All project descriptions and pictures are from the OneTreePlanted organization which receives a Bezos Earth Fund Grant in the restoring lost ground category.
North America
British Columbia
British Columbia has established itself as a leader in forest management, implementing stringent forest policies, stewardship programs and scientific research. Our reforestation partners are experts in rehabilitating B.C. forests and ensuring they have a sustainable future. They reduce the damage from beetle infestations, lessen the impact of wildfires, provide habitat for B.C.'s abundant wildlife like the moose and grizzly bear, and preserve the province's natural beauty for generations to come.
New Brunswick
The primary goal in reforesting this site is to increase species diversity and promote climate change resilience within a restoration management model. Future conditions will see the return of a healthy Acadian Forest ecosystem. The secondary objective is to have a restoration site at Whaelghinbran Forest. This will be used for demonstration and educational purposes in CFI outreach activities. The forest is frequented by groups from the forestry programs at the University of New Brunswick, the Maritime College of Forest Technology, as well as area schools and forestry professional associations.
Ontario
Reforestation in Ontario will greatly benefit communities, biodiversity, and the environment. Planting trees will restore critical watersheds, rebuild important wildlife habitats, and will ultimately combat climate change and global warming. Most importantly, your donation will help to fill the void left by the Ontario government's termination of the 50 Million Tree program. With your support, conservation organizations who were counting on support from the government will be able to continue planting trees across the province.
National Forests (United States) 
All of our USFS projects have incredible and diverse impacts on the environment. Projects focus on restoration from wind damage, tree diseases, and insect damage that have left the forest vulnerable. Planting trees will also support biodiversity habitat, protect culturally important indigenous lands, and reforest recreation spaces for communities and visitors to enjoy.
Appalachia (United States)
This project is a 5-year, multi-state effort. Our planting partners are looking to restore forests across all Appalachian states. The first phase we're participating is in Kentucky. Supporting this project will return formerly unproductive mining, logging, and agricultural land to balance. Planting trees here will also benefit nearby communities as hydrological function will be improved, thus providing them with better quality water. This project also creates meaningful jobs in communities suffering from high poverty and unemployment rates. Our planting partners are also implementing conservation practices to ensure the forests are maintained sustainably for many more years to come.
Fire Forest Recovery (Canada & United States)
Every year, forest fires are increasing in size and severity, damaging vital ecosystems and creating a need for millions of trees. With so much fire damage, reforestation is essential to catalyze the environmental recovery process. The trees are carefully planted to prevent invasive species from colonizing burn scars and restore quality habitat for native biodiversity. 


Latin America:
Argentina
Our Argentina project will employ locals at nurseries in the area to generate income for their community and planting knowledge for generations to come. Collaboration with locals is crucial since they know the location, the climate, the seasons, and the animals.
Reforestation will improve the quality of life for the local population living in harsh mountainous conditions. After decades of cattle raising in the area, one of the native trees thrives without allowing other species to settle. With this project, we will regenerate the forest as it was before human intervention.
Costa Rica
We are proud to be collaborating with wonderful partners that have started to lay the groundwork for a widespread citizen science network that will enable tropical species to maintain healthy populations and migrate to survive into future climates while also generating basic scientific information for 120 species.
Haiti
We work with an amazing partner in Haiti that uses social enterprise to tackle reforestation. Focusing on community development, they help establish farmer cooperatives and rural farm businesses, with a strong focus on empowering women. By planting trees and learning proper environmental practices, Haitian farmers can grow more food, combat climate change, and lift themselves out of poverty.
Honduras
Through the Honduras Reforestation Project, Rainforest Alliance and One Tree Planted seek to restore deforested and degraded land in two regions of the country by planting 500,000 trees of varying native species. This project focuses on repairing critical ecosystems, improving the quality and availability of water, increasing rural farmer productivity, diversifying farmer incomes, and establishing long-term ecosystem restoration activities with the community, including creating community nurseries and training community members on sustainable sustainability forest nursery management. 
Andes
Our excellent partners are leading a Latin America-wide initiative to restore 1 million hectares of high Andean forest across 6 countries over the next 25 years. As part of the annual tree-planting festival Queuña Raymi, trees will be planted with the guidance of local leaders using ancient Incan traditions, preserving the landscape and Indigenous culture. The tree planting will help restore wetlands, safeguard existing forests, and protect critical Amazon headwaters.

Africa:
AFR100: PLANT TREES FOR AFRICA

Planting trees in Africa will help to add nutrients to the soil while also controlling erosion. Added forest cover will diminish pressure on remaining forests, allowing biodiversity to flourish and ultimately helping with the global climate crisis. With a focus on reforesting within local communities, sustainable livelihoods will develop by creating jobs, thus minimizing poverty. Fruit trees will be planted to improve food security, which will help feed impoverished families and provide them with the option to resell fruit.
Côte d'Ivoire
By the end of three years, ecological benefits will include carbon sequestration, soil fertility enhancement, nutrient cycling, creation of soils, a refuge for biodiversity, water and air quality improvement, flood and erosion control (tree roots hold soil in place), fruits, poles, timber and fuel from pruning, pollination, natural pest control, climate regulation, moderation of natural phenomena like extreme heat or rain.

Community benefits include forest and tree products and services, more stable and productive farms, improved nutrition, and emergent new income streams. The project will be looking at two additional income-generating activities (on top of cocoa trade) for cocoa farmers. We anticipate that it will create at least 300 jobs for women and young people!

Uganda (Biodiversity)
With the presence of a regenerating forest, we will create a safe haven for biodiversity. This brings a wide array of habitats, leading to a significant increase in species numbers. Restoring degraded areas will also result in better soil stability, ultimately improving forest cover as a whole!

Amazon Rainforest
This tree planting project will help protect the Amazon's biodiverse primary forests and restore degraded land. Our partners will work with local farmers to establish sustainable agroforestry using shade-grown cocoa, native tree species, and productive timber species. They will also provide training and technical assistance for participants in the sustainable agroforestry model.



Europe:
Romania
Planting trees in degraded areas will restore ecosystems, prevent soil erosion, and allow wildlife to return to the area. Revitalizing the natural environment of Romania is an essential step in helping regulate the local climate and improve water retention for nearby villages. Our reforestation partners in Romania are working closely to mobilize community members and raise awareness of the importance of protecting the environment and sustainable forest management. In doing so our partners are restoring traditional land-use practices and creating economic benefits.

Asia:
India (

Mangroves)

Mangroves Like many mangrove areas, coastal forests provide vital protection for millions of people from climate change impacts, cyclones, tidal surges, and coastal erosion. Planting mangroves will help protect the natural embankments of river mouths, thus restoring the aquatic environment and ecological balance. Our mangrove restoration projects typically occur throughout Asia and Latin America, where these trees are native and can thrive, including in Costa Rica, The Philippines, India, Haiti, and Guatemala. Your donation will provide social benefits in these regions, such as fishing activities and even new income-generating options.


Thank you so much to be part of this journey.



 
Discover more on our magazine!